Janelle's Story,
-----------------------



------------------------
My name is Janelle, and I was diagnosed with
pleural mesothelioma in April 2007.
I had just turned 31 years old.
My symptoms were pain around my left rib,
a constant dry cough,
then I started to have shortness of breath.
I was in good health and didn't
expect to be told I had cancer.
Everything happened so fast.
My x-rays showed I had a small tumor
in my chest cavity,
pleural effusion in my left lung.
I had to have multiple thoracentesis,
chemo, thoracoscopy with chest tube drainage
and pleurodesis, extraplueral pneumonectomy (EPP)
that removed 5 lymph nodes,

------------------------
A rib, my whole left lung,
and part of my diaphragm.
I then had to have 30 rounds of radiation.
It has been a very hard road to recovery.
I've also had to deal with nerve damage,
physical therapy, nerve blocks, and depression.
I am thankful to be able to say that
I have been cancer free for over 3 years.
I am not sure how I contacted mesothelioma.
My father was a fireman,
and they say I could have gotten the
asbestos second hand from his clothing.
I also had two uncles who worked in
factories around asbestos.
No one else in my family has had Meso though.
Now being a survivor for going on 4 years,
I have become a mesothelioma advocate.
This past September I had a 5k race to
raise money for meso research,
it also was exciting because I also
was able to participate in my first 5K.
I raised $3,000 for
Mesothelioma Applied Research Foundation

--------------------------
Janelle's Journey

--------------------
I am married to Andrew Bedel
with one son Carson who is 8 years old.
I am a cancer survivior,
I was diagnoised with Mesothelioma in 2007.
I lost my left lung to the cancer.
Cancer took a lot from me but
it also opened my eyes to what length family
and friends will go to for you!
I believe in God and the gift of life I was given.
If I could give any advice to anyone
it would be to cherish your life
and body your were given and take care of it
Janelle was diagnosed with
stage 2 Mesothelioma in 2007
and her long battle has been chronicled
in the pages of the Rushville Republican
and in the hearts of the community
of Rushville.
How Janelle contracted this form of
cancer is a mystery.
It is commonly due to being exposed to
materials containing asbestos.
At the time of her diagnosis and as
reported in the Rushville Republican,
Janelle had just been promoted to the
IT department at Main Source Bank,
something she had been
looking forward to and loved.
With a change in her work hours,
she began to notice a shortness
of breath in the mornings.
"I just chalked it up to anxiety
about my new position,"
Janelle said at the time.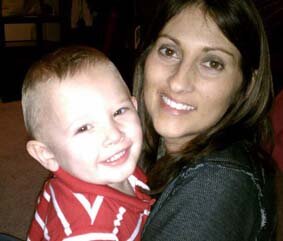 -----------------------
"It was March when it started,
and they had been talking about
how high the pollen count was on
the news and how people had experienced
shortness of breath due to that,
so I thought it could have been that too."
The shortness of breath continued
for the next couple of weeks,
and it got to the point where Janelle
could barely vacuum the house without
feeling like she had just
run the New York Marathon.
At the time, she was a smoker,
so she quit out of concern for her health.
Then, she had an asthma attack,
despite the fact that she had
never been diagnosed with asthma.
So, she went to the doctor.
"He checked me out and thought
it was bronchitis," she said.
"So he gave me a prescription
and sent me home."

-----------------------
She was exhausted,
feeling like she had the flu,
and was totally drained.
She took the five-day prescription
that her doctor had given her,
but her symptoms just got worse.
"I went back, and the doctor
ordered a chest X-ray," she said.
What it revealed was shocking,
even to her physician.
The X-ray showed a pleural effusion
on the left side of her body.

------------------



Pleural effusion
------------
He called me and said,
"You're not going to believe
what's causing this,"
Janelle recalled.
I remember him telling me how abnormal
it was for someone my age to have this.

------------------------------
Pleural effusion is an accumulation
of fluid between the parietal pleura
(the pleura covering the
chest wall and diaphragm)
and the visceral pleura
(the pleura covering the lungs).
Both of these membranes are covered
with mesothelial cells which,
under normal conditions,
produce a small amount of fluid
that acts as a lubricant between
the chest wall and the lung.
Any excess fluid is absorbed
by blood and lymph vessels,
maintaining a balance.
When too much fluid forms,
the result is an effusion.

--------------------------------------
The effusion was drained the next day
in Greensburg by way of a needle between
her ribs in her back.
It was uncomfortable,
but she had been numbed before the procedure.
As she watched the fluid drain,
almost two liters,
she almost passed out.
Life continued as normal.
Janelle was sent home,
went back to work,
and was scheduled for a CAT scan
the day after her procedure.
This is a common practice to make sure
that the drainage worked properly.
Her lung was half-full again the next day.
This time, the doctor noticed a mass
in her chest on the CAT scan screen.
He didn't know if it was related
to the plural effusion,
but he wasn't taking any chances

---------------------------
April 13, 2007,
Janelle Bedel headed to Columbus
to a lung specialist after her
family doctor noticed a mass in her
chest on a CAT scan.
The lung specialist went over
Janelle's x-rays and previous CAT scans.
The fluid drained from her lungs
was tested for abnormalities,
as well as her blood work.
Both revealed normality.
Janelle was relieved,
but her physicians were still perplexed.
What would cause a seemingly healthy
31-year-old woman to develop a disease
most commonly found in 65-year-old men?

-------------------
Her next step was to visit a surgeon
in Indianapolis at the Indiana
University Medical Center
Dr. Kessler saw Janelle April 18, 2007,
for a consultation to check her lung,
do another round of x-rays and more tests.
She had another round of thorentesis
(i.e., fluid drained from her lungs),
which unloaded another two liters
of fluid from her chest cavity.
The fluid was sent out for testing,
which again revealed nothing abnormal.
Dr. Kessler ordered a scan to be done immediately
after Janelle's fluid was drained from her lungs,
which would enable him to get a more
accurate picture of the mass in her chest.
"The doctor saw the mass right away,
but also noticed that my lymph nodes
were enlarged in my left breast,"
Bedel said.
"He sent me for a mammogram immediately."
While Janelle travelled back to Rush County,
her imaging was sent away for a closer
look by the doctor.
In the meantime,
the liner in her lungs was thickening.
Her doctor ordered a needle biopsy
at the end of April, as well as a CAT scan.
This required Janelle to lay still for two hours.
While her back was numb,
doctors took 14 biopsies while she was awake.
Making the procedure even more difficult,
she had to be able to hold her breath during the procedure.

--------------------
A week later, Janelle was delivered
a startling blow while at work.
Her doctor called with the results of the biopsies.
"He said, this is never 100 percent accurate,
but tests are showing that you
have Mesothelioma," Janelle recalled.
Her lung was also full of fluid again.
She remembered sitting at her desk
for a moment in shock,
because she had a vague idea
that Mesothelioma meant cancer,
but she didn't realize all that it entailed.
When researching plural effusion and the
certain type of mass that she had,
the term repeatedly resurfaced,
planting the seed in her brain.
All symptoms listed were concurrent
with her own.
She asked her family doctor,
who told her not to believe everything she read.
Janelle was holding out that he was right,
but it was not to be.
In a daze, she walked over to her sister-in-law's desk,
who also worked at Main Source with her.
"I handed her the piece of paper with 'that word' on it,"
Janelle said,
struggling to hold onto her composure.
"I said, 'Is that what I think it is?
Is that cancer?' "

---------------
It is at this point that Janelle,
who has been extremely strong throughout
the entire interview with reporter
Elizabeth Gist at the time,
loses composure at the memory of that phone call
and the sudden realization of
what had been invading her body.
The doctor scheduled surgery.
The game plan was to strip cells,
but instead, lesions were found
all over her left lung and left rib.
Doctors put talc powder between the
chest cavity and lung liners and
multiple biopsies were sent to pathology.
Two chest tubes with heavy silk sutures
were inserted to drain the fluid;
this time, over three liters.
"It was like having a baby,"
Janelle recalled.
"I had to be on morphine and Vicodin
all day because of the pain.
The doctors pushed on my spine and nerve,
tapped my lung and I had some nerve damage."

------------------
She spent two days in the ICU and
in recovery for four nights.
Doctors loaded her up with a
whopping eight prescriptions
(16 pills total per day)
as well as vitamins and folic acid
to prepare her for chemotherapy.
May 30, 2007,
Janelle Bedel met with Dr. Nasser Hanna
and a surgeon at the
Indiana University Medical Center.
Hanna would be performing her chemotherapy,
which was required for the next
phase in the fight of Janelle's life.
After some thorough research
and recommendations,
Janelle decided on the
Memorial Sloan-Kettering Cancer
Center in New York City.
In order to be treated most
effectively by Rusch,
Bedel must undergo two rounds of
chemotherapy with a PET scan
before and after the treatments.
So, June 13, 2007,
Janelle was taxied to Indianapolis by
her sister-in-law to begin chemo, round one.
------------------------------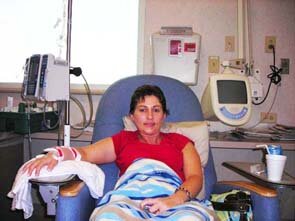 First chemo, 2007
---------------------------
She writes, "June 14, 2007:
Chemo wasn't too hard,
but I felt awful afterwards and
very tired and weird.
I went to bed at 7 p.m,
which made me sad to miss Carson's
swimming lessons which are at the Rushville pool
from 7:30 to 8 p.m. He is doing so well.
I love to see the smile on his face
and how happy he is out there in the water!
"I did get up and get sick through the night,
and that was hard!
It also makes it worse because when I
get sick it hurts my surgery area,
I am glad I took two more weeks to heal
before starting because it would
have been a lot worse!
I got sick twice this morning,
finally dragged myself out of bed
and my dad picked up my son.
Carson was crying to stay with me,
but I need the rest,
and Andrew will pick him up
in a few hours so he will be fine.
I love Carson so much.
I hope I can spend a lot more time with him.
My husband of course is also great,
but there is truly no stronger love
than that between a mother
and her son."

--------------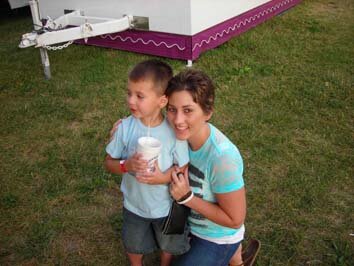 Janelle and Carson 2007.
--------
The community of Rushville also began to support
Janelle beginning with the Janelle's Journey Poker Run
the summer of 2007 and other activities.
Some as simple as home cooked meals
prepared for her family's table.
The random acts of kindness and
community support were an eye-opener for Janelle.
The community showed up in force to support her
with approximately 250 bikes arriving for the Poker Run.

--------------------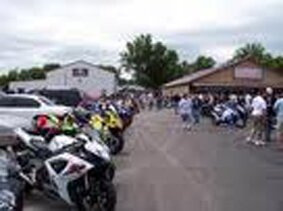 -----------------------

"The good deeds and the things I have seen people
"The good deeds and the things I have
seen people make and donate for my benefit
made me realize some of the things
I want to give back when it is my turn,
or how I will make a difference in others
lives the way they have in mine so far," she said.
"I was really tired that day, but so excited," Bedel said.
"I've looked forward to this for so long,
and I was thrilled with the outcome.
I was happy with the thought of maybe
120 bikes showing up.
I would have been happy with five bikes showing up.
But it was really a testament to this community,
the amount of help and support that flooded in."

----------------------------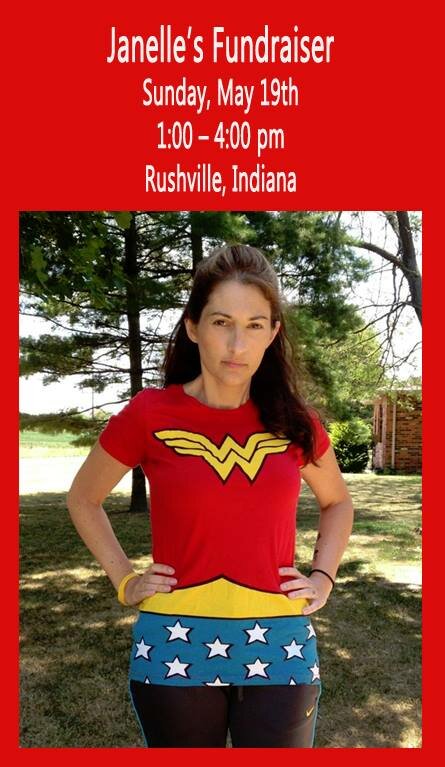 ------------------

Janelle was also able to fulfill a
yearly routine during that time in 2007
which was to take her then
4-year-old son Carson to the fair.
"I took him Monday, Tuesday and Friday
and definitely overdid it,
which put me in bed all day Wednesday and Thursday,"
she said of the 2007 Rush County Fair.
"But it was worth the exhaustion and nausea
just to get to see him smile and have a blast."
It was time for New York and the
treatment available there.
She would be seen by one of the
best doctors specializing in her form
of cancer at one of the top cancer
hospitals in the world.
There she would have surgery and begin
aggressive treatment to get rid of
the cancer that invaded her
body just a few short months ago.
She was not prepared, however,
for the bad news that Dr. Valerie Rusch was
about to bluntly deliver.

-----------------------------
"Dr. Rusch was hesitant on the success the surgery
would be for me," Janelle said.
After reading all of Janelle's test results,
coupled with the reality of her pain level,
Dr. Rusch was almost positive that Janelle's
tumor had grown along her chest wall.
If that were the case, he said,
he would be unable to remove it
and advancement would be too far ahead for surgery
or any other treatment to catch up with.
"She was unable to give us any hope," Janelle said.
"However, she said surgery was the only option left,
so at least she would get in there and see.
She said that I should know by other doctors'
conversations with me that this is a
very hard cancer to beat,
and to hope for the best but be prepared for the worst."

--------------------------
After that initial meeting with Dr. Rusch,
Janelle headed back to her hotel.
She wasn't prepared for the fact
that there would be a chance the
tumor couldn't be removed at all.
"I thought that once I was in New York I was
going to hear nothing but good news," she said.
That night, like many others,
Janelle prayed that she could stay here
on earth with her family and
that she wasn't ready to go yet.
She prayed that God would help guide
the surgery teams hands and remove the tumor.
The night before surgery,

-------------------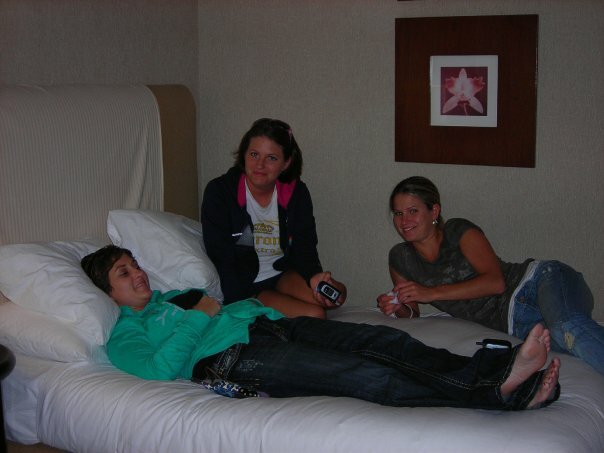 Sisters Carissa ,Carina and Janelle
the night before surgery

---------------
Janelle's family came to New York.
Her father, step mother and siblings
came to spend time with her and to
be there with her through the surgery.
The morning of surgery,
Janelle warned her husband Andrew
she needed blunt honesty.
"I told Andrew he had to tell me as soon as
he walked in my room whether or not
Dr. Rusch was able to remove the tumor,"
she said.

-------------------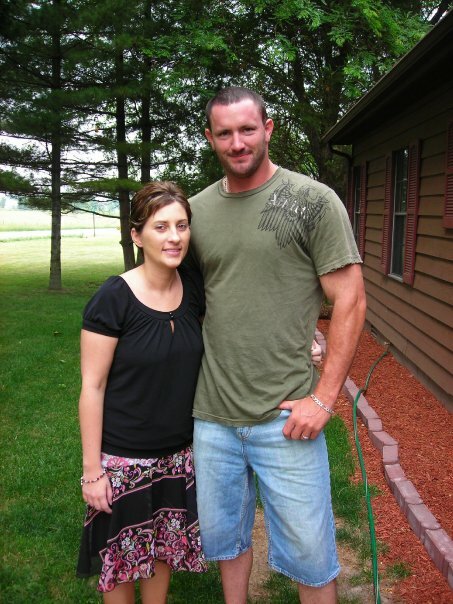 Andrew and Janelle 2007
------------------
"He really didn't want that job.
He asked me if he could lie,
because he wouldn't be able to tell me
she couldn't and that this was it."
Andrew was outfitted with an alarm
that he carried with him so that
when the doctor was ready to speak to him
he knew where to go.
The surgery was estimated to last
approximately three hours.
"Andrew said it buzzed a lot earlier than
he thought it would,
so he was immediately nervous that
the surgery was not successful," Janelle said.
Dr. Rusch looked at Andrew and related the news.
"She looked at him and said that she was able
to remove all of the tumor,
and then she smiled," Janelle said.
"He was so happy he cried.
The rest of my family thought it was
bad news based on that reaction."
Dr. Rusch also removed a rib bone,
as part of the extrapleural pneumonectomy,
because when they go in to remove
the lung and lymph nodes,
part of the diaphragm must be removed as well.

----------------------




--------------
"When Andrew walked in smiling,
I did a thumbs up and he said "yes," she said.
"I was extremely happy and knew I
could get through anything at that point."
Community support has continued
with other fundraisers including
proceeds from a whiffle ball tournament
and donations from area businesses
and numerous individuals.
In November 2007, Bedel's feet finally touched
Rush County soil for the first time in three months.
Bedel had been in New York on the campus of
Sloan-Kettering Memorial Hospital in Manhattan,
one of the country's best for fighting cancer.
"The radiation was a lot harder than I thought
it would be," Bedel said.
"Maybe it was because I had just had the surgery
and was dealing with the pain and the
long incision that goes from my shoulder blade
down to the front side of my ribs."

-------------------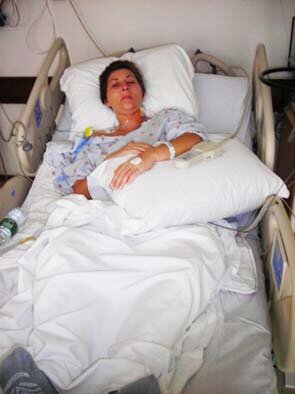 Janelle soon after surgery

---------------------
At her first follow-up appointment with Dr. Valerie Rusch,
the surgeon specializing in Mesothelioma
who treated Janelle,
everything seemed to be in order.
However, Dr. Rusch did reveal
some frightening information to Janelle.
"I did find out if I was in phase III Mesothelioma
when she removed my lung," Bedel said.

-------------------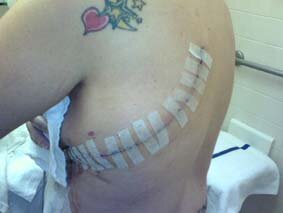 ------------------

"I thought of how lucky I was that
Dr. Wagner (my family doctor in Indiana)
had been so quick on getting me in to see
all the right doctors and make all the phone calls
to plan out my trip to see Dr. Rusch."
Dr. Rusch's orders were for Janelle to walk a mile a day
to strengthen her right lung,
not a difficult task in New York City.
Janelle met with Dr. Rosensway later that week.
Rosensway would be Janelle's
radiation physician at Sloan-Kettering.
Janelle's treatment was five days a
week for six weeks.

--------------------------
"Laying flat on the table was a challenge for
my incision," she said.
"Treatment lasted about 15 to 20 minutes a day.
The doctor said that normally nausea and exhaustion
would come around week three and worsen
through week six. I did the opposite.
I was sick from day one.
The first two weeks I vomited every day
and felt so nauseous.
I didn't think I would make it to week six,
especially after they said it would
get worse as I went,
and laying on my incision was painful."
On top of the physical aftermath of
the radiation therapy,
Janelle also had to deal with missing her son.
"I got really depressed and was missing my son,
who was back home in Indiana," she said.
"By week three, my step mom brought
my son up to visit for a week,
and things took a turn for the better.
I was on three nausea pills by then,
but seeing Carson was what made me happy
and I started feeling good."
Janelle also leaned on her
husband heavily for support.

----------------------
"My husband stayed with me
the whole time," Janelle said.
"He has dealt with this cancer as much as I have.
I was lucky that he stayed with me.
I couldn't have done it by myself."
After a week of reuniting with her family,
Carson had to return back to Indiana.
I said to myself, "This is it, I'm halfway done,' she said.
"I knew I had to be stronger to get through the
rest of the treatments
and get back home to my family."

----------------------------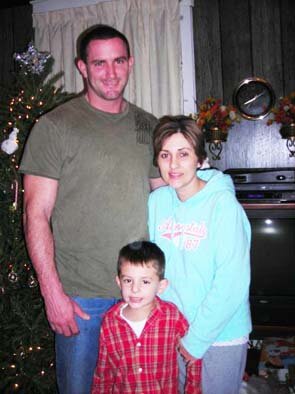 Christmas 2007, after Janelle's radiation treatment

----------------
Currently
After enduring all of the previous trials
and tribulations previously outlined,
Janelle enjoyed something of a respite
from the cancer she fought so hard to beat;
unfortunately, it looks as though her time is running out.
Her brother, Bennie, explained that
the cancer "never really left.
She had been doing things to
extend her life through surgeries,
chemo, radiation.
She has decided on hospice because
the meso has gotten to her diaphragm
and now she can't do anymore to extend her life.
Now she is just wanting her work to live on."
Rushville and Rush County,
as they so often do,
are rallying around one of their own.
The Wonder Woman symbol,
----------------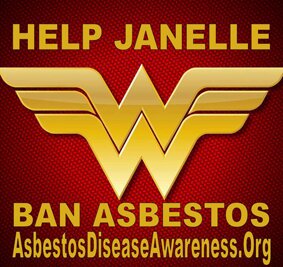 ---------------

Which has come to represent Janelle's battle,
can be found all over Facebook
and other social media sites
and the story has been picked up by television stations
out of Indianapolis.
Meanwhile, Wonder Womans focus
is on raising public awareness
and working to ban asbestos in the time she has left.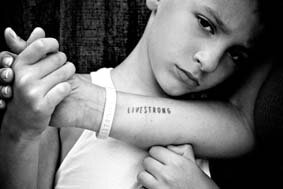 July 4th.2011
Janelle's son Carson)
LIVESTRONG

-----------------------
Melissa Conrad with contributions from articles
by Elizabeth Gist in the Rushville Republican
A courageous meso warrior, Janelle Bedel,
has been making huge strides in
raising awareness of mesothelioma.
Last Thursday night,
after announcing to her Facebook network
that she was entering hospice care,
hundreds, and at this point,
thousands of Facebook users,
changed their profile picture
to the iconic symbol of Janelles
fight against mesothelioma:
the Wonder Woman logo.

----------------
Janelle's stoic attitude,
despite several major surgeries
and countless chemotherapy treatments,
earned her the reputation of
Wonder Woman among friends and family,
and now even with strangers
who read about her story online.

-------------------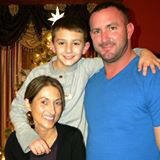 ----------------------

On June 3rd, Janelle,
with her husband Andrew
and 10 year-old son Carson by her side,
was honored by the Mayor of Rushville, IN,
where she lives,
with a city medallion and proclamation
declaring June 6th of every year
as the "Janelle Bedel 'Wonder Woman' Day".
Since then, she has also
been featured in several news stories.
But that's not all.
With her friends and family,
Janelle has already been a
part of several fundraisers,
and on June 19th,
the Corner Restaurant in Rushville,
IN will be donating 20% of its proceeds
to benefit the
Mesothelioma Applied Research Foundation.

-----------------------------
Despite having been dealt such a difficult hand,
Janelle has traveled across the United States,
from Florida, to Washington, DC,
to Las Vegas, NV, to New York City
to fundraisers and awareness events.

---------------------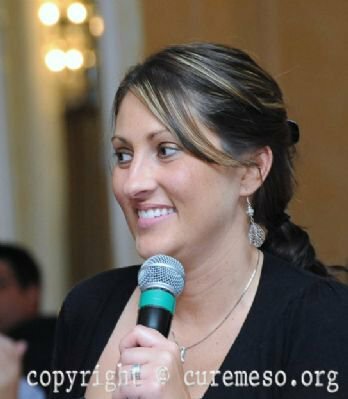 Symposium 2012
-----------------
She has raised thousands in funding for
research to honor her friend Larry Davis,
who lost his battle against mesothelioma.
Larry died only a year ago,
a few days before his 67th birthday,
in July 2013.
Her recurring cancer has not stopped her
from attending the
Mesothelioma Applied Research Foundation's
conferences and meeting with
Senators Coats and Donnelly and
former Senator Lugar's staffers,
pleading for increased research funding
for mesothelioma.
She also played a key role in getting a
resolution passed designating
Sept. 26th as National Mesothelioma Awareness Day.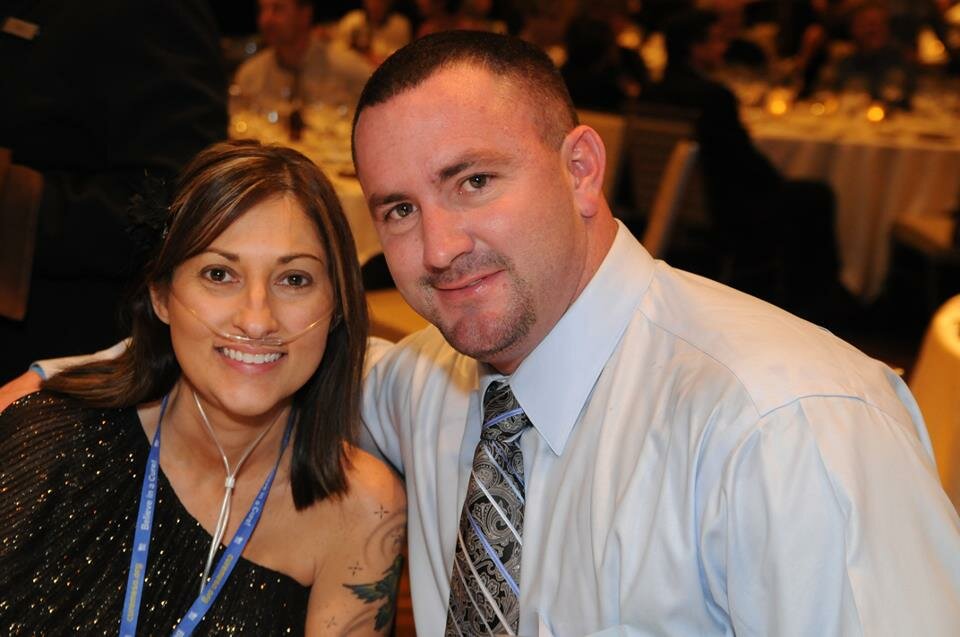 Symposium 2013

--------------------------
Janelle Bedel was only 31 when she was
diagnosed with pleural mesothelioma.
The Rushville, Indiana, wife and mother
was given only 10 months to live,
but six years later,
she is still engaged in
the fight of her life.
Her friends and family call her Wonder Woman,
and her amazing battle has earned her
support and encouragement from
online friends around the world.
Experts don't know exactly why
Janelle contracted mesothelioma,
which is commonly the result of exposure
to the carcinogenic material asbestos.
However, throughout her ordeal,
Bedel has remained strong.

------------------------
She has spoken at conferences and
events to help raise awareness of
the dangers of asbestos,
and fight for more regulation.
Bedel adopted her Wonder Woman persona
after picking up a thrift store shirt
with the logo on it.
It's now her "thing," and for good reason.
"Even though this disease is awful,
I feel it was my purpose in life
to be able to reach out and touch and
change people's lives,"
she told people
"(to) believe that with prayer and God anything
is possible and that one person
can make a difference."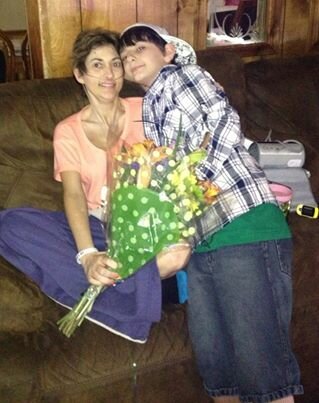 Carson surprised me with flowers
2nd June 2012

-----------------
Sadly, not even superheroes are invincible.
Bedel recently shared some sobering news;
she has entered hospice care,
and, for all intents and purposes,
is probably entering the last stage of her battle.

---------------
On Tuesday, June 18, Janelle was presented with the
Alan Reinstein Award.
This Award recognizes Janelle's commitment to education,
advocacy and support to patients and families
around the world.

---------------------
However, thousands have already proved
they are ready to take up her mantle
and fight for awareness and
change in Bedel's honor.
After her announcement on Facebook,
users of the social networking site
around the world changed their
profile pictures to Bedel's signature
Wonder Woman logo.
In Rushville, her hometown,
the mayor has proclaimed June 6
"Wonder Woman Day" to recognize Bedel
and all she has accomplished.

------------------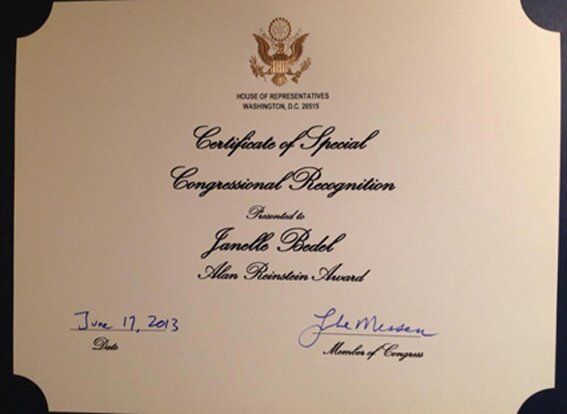 ,

------------------------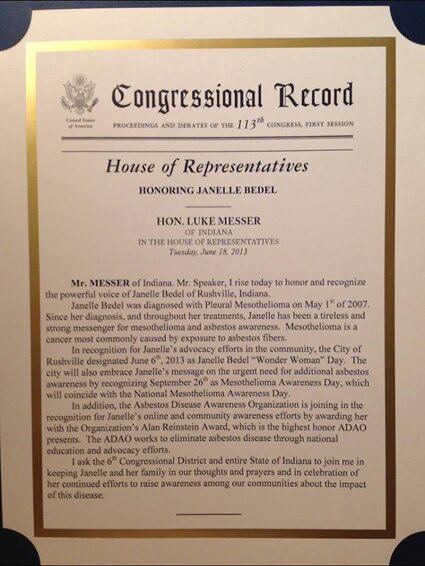 -------------------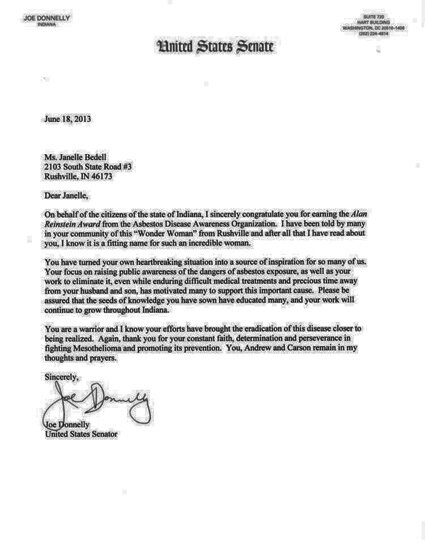 ---------------------------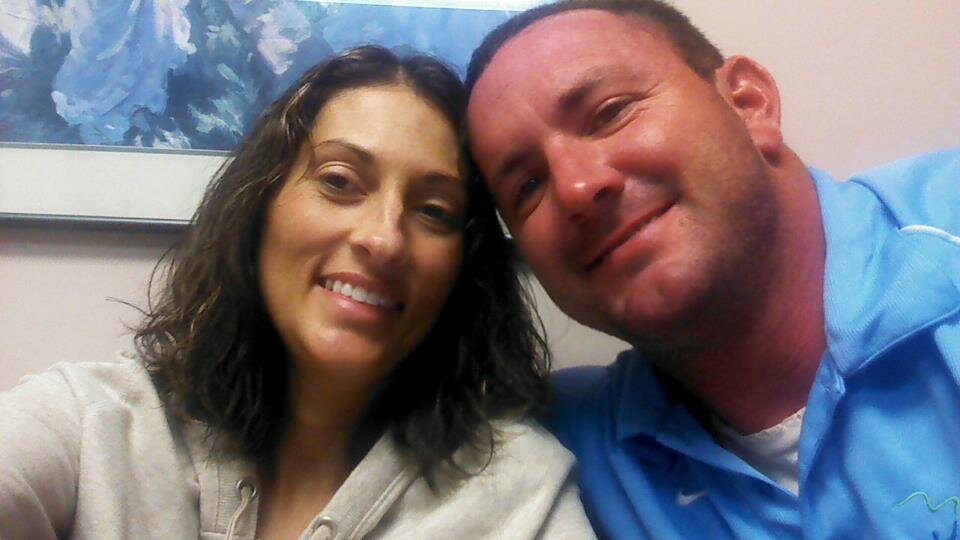 December the 8th 2012.
trying to stay positive
-----------------------
The Proclamation

-------------------
The proclamation from the city
documents Bedel's brave fight and reads:

WHEREAS, Mesothelioma is a rare and aggressive cancer.
The only known cause is from asbestos exposure.
Mesothelioma is a cancer of the
smooth lining of the chest, lungs,
(pleura), heart (pericardium),
or abdomen (peritoneum.)

WHEREAS, Janelle Bedel,
aka "Wonder Woman"
is fighting for her life because of
a terrible form of cancer called Mesothelioma.
Janelle has been a true warrior
fighting this lethal disease for years,
longer than anyone thought she could,
beating so many odds.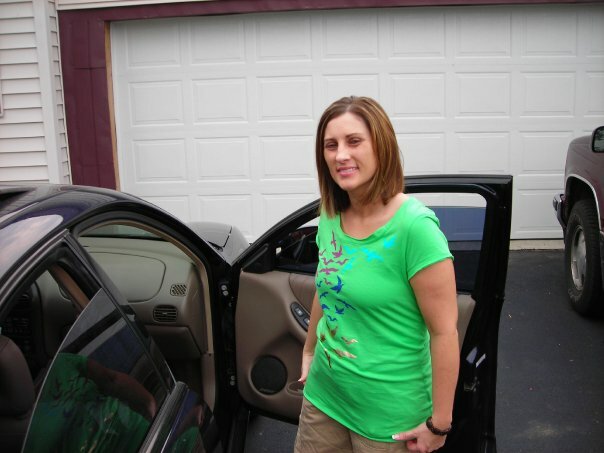 ----------------------
WHEREAS, In 2007
Janelle was diagnosed with
pleural mesothelioma at the age of 31.

WHEREAS, three rounds of chemotherapy,
Altima and Cisplatin. Thoracentesis,
the removal of pleural fluid through
a long needle is usually performed
for diagnostic purposes.
Along with (VATS)
video assisted thoracoscopy surgery
to insert talcum powder that will
circulate the liner and
eliminate space for fluid.
Extrapleural pneumonectomy surgery
to remove a diseased lung,
part of the pericardium
(membrane covering the heart.)
Thirty rounds of radiation.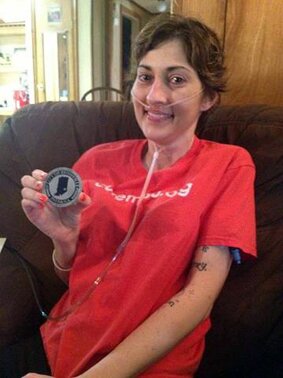 ----------------
2011, diagnosis of Peritoneal Mesothelioma
Cytoreductive surgery coupled
with intraperitoneal chemotherapy.
Restrictive lung disease
respiratory disease that restricts lung expansion.
2012, chronic hypercarbic respiratory
failure with cerebral edema.
Five year Mesothelioma cancer survivor

WHEREAS, Janelle Bedell has been a true
warrior fighting this lethal disease,
longer than anyone thought she could,
beating so many odds.

--------------------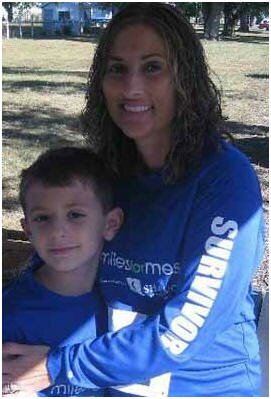 ------------------------------
She has travelled the country,
as health permitted,
to gain awareness and rally
support to ban asbestos,
the most common cause of her
type of cancer - Mesothelioma.

WHEREAS, Janelle Bedell has brought an
entire community together
because she is so loved.
Hundreds upon hundreds of Facebook
users have changed their profile photos
to "Wonder Woman" to show our love
and support for Janelle and to bring
even more awareness to her battle.

NOW, THEREFORE, I, Michael P. Pavey
Mayor for the City of Rushville, Indiana,
do hereby declare this day (Thursday, June 6):
JANELLE BEDEL "WONDER WOMAN" DAY
in the City of Rushville and urge everyone
to say a prayer for Janelle and all
stand together as a community to lift
Janelle up in prayer which she so deserves.

IN TESTIMONY WHEREOF,
I have here unto set my hand
and caused to be affixed the great seal
of the City of Rushville,
at the Mayor's Office,
this 5th day of June, 2013.
Mayor Michael P. Pavey.

-----------------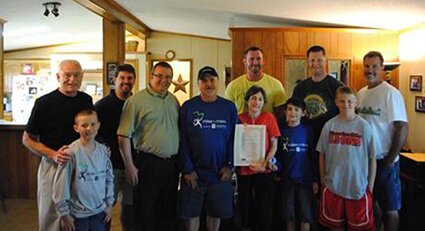 ----------------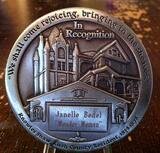 ----------------------

Janelle Bedel passed away tonight
after a hard 6 1/2 year battle with Mesothelioma.
She was the strongest person I've ever met.
Thanks so much for all the support
and continue to pray and help live out
one of her missions,
banning asbestos and making people
aware of its danger.

--------------------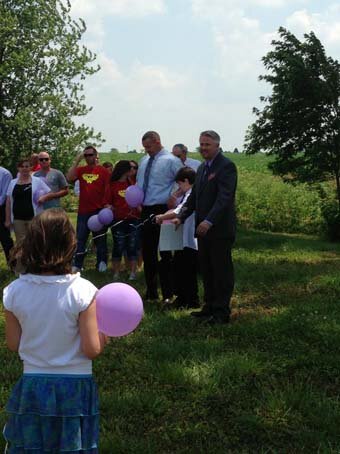 The funeral service .
------------------------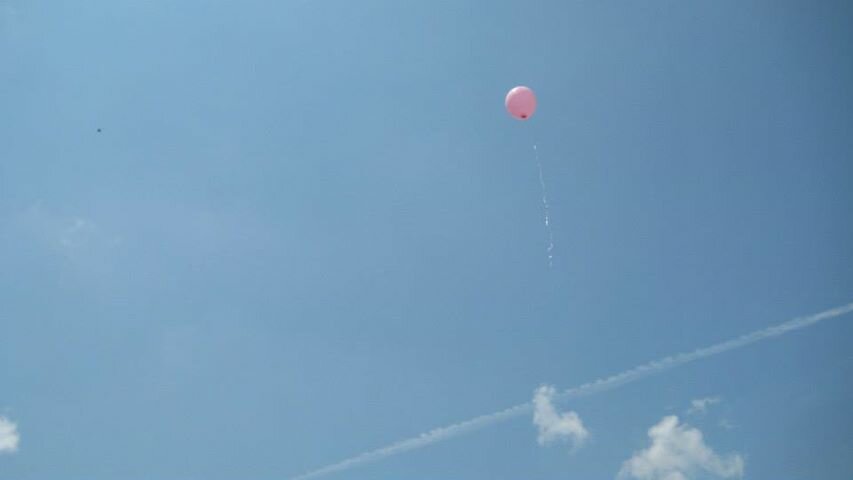 Carson let the first balloon go for his mother.

-----------------------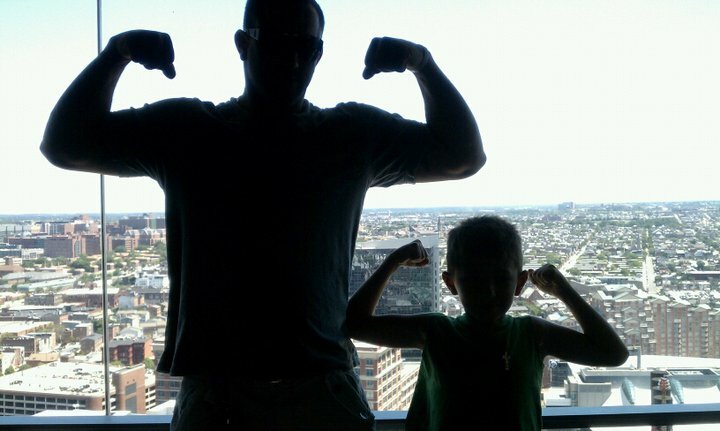 Janelle's fighting stance

--------------------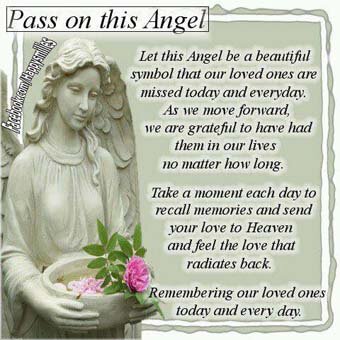 -----------------------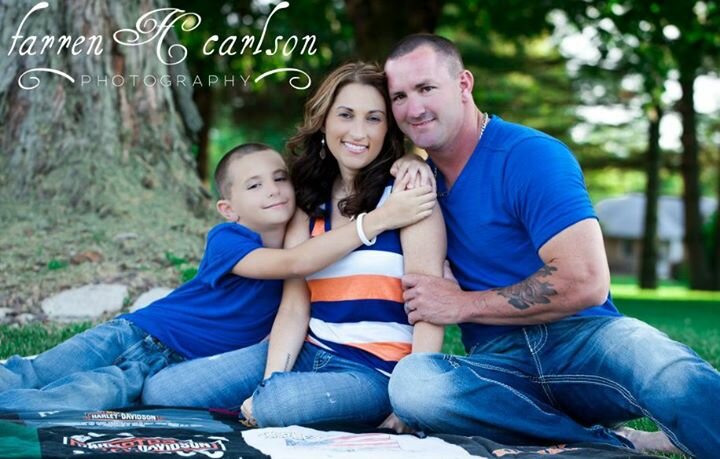 --------------------------

One day we walked along the sand
one day in early spring
.
You held a piper in your hand
to mend its broken wing
.
Now I'll remember many a day
and many a lonely mile.
The echo of a piper's song
the shadow of a smile.
The shadow of your smile
when you are gone.
Will color all my dreams
and light the dawn
.
Look into my eyes
my love and see.
All the lovely things
you are to me
.
Our wistful little star
was far too high
.
A teardrop kissed your lips
and so did I .
Now when I remember spring
all the joy that love can bring
.
I will be remembering
the shadow of your smile .
--------------------
Andrew, I am so very sorry to hear about Janelle.
I never met her,
but had just finished her story
and feel as though I have known her forever.
I feel "absolutely gutted"
that I never had the chance to meet this
beautiful person.
My heart goes out to you and Carson
who Janelle loved so much.
Deidre

-------------------------