-------------------------------
Hi Travis and Kelly,
My husband died 12 years ago on the
1st June of pleural mesothelioma,
just under 5 months from
the day he was diagnosed.
At that time in New Zealand they
were just telling you to go home
and get everything in order.
Nothing they could do.
It is nice to hear that people
are surviving longer now.
Because of this I set up a website
so people could put their stories
on and give some hope to others.
If you would like to have a look through it
you might like to add your story,
many regards from Deidre

-----------------------
Dear Deidre
My heart goes out to you on this
time of year when you are remembering
your loved one....
thanks for the kind words..
We are still fighting the
horrible Meso monsters.
although we now have retreated to hospice care.
We have done every possible treatment and
now have resolved to just wait and see after 7 years
he is only 37 years old,
but we still have hope and faith.
thanks again!!!

----------------------
Hi Kelly,
If you managed to look through my website
you will see that "hope" is a big
thing that can keep you going.
I do believe that.
When Thom was diagnosed there
was not one ray of hope given to him
and he did as they said
and came home to die.
They took the hope from him.
My sister was diagnosed with ovarian cancer
and was told that it was terminal
but with some treatment they would
give her a bit more time.
She had hope.
She went to Australia a couple of times
and then all round New Zealand
to visit with her family and friends.
She lived her time of dying
where as Thom died his time of living
Regards from Deidre

-------------------------
Dear Deidre,
Travis was 29 when he was diagnosed.
We live in South Dakota and went
to the Mayo Clinic in Rochester MN
at that time,
he was also told to go home and
get his affairs in order and
maybe try chemo but that it was
probably hopeless.
It was so fortunate that I had researched
online and found a clinical trial
at the National Institute for
Health in Bethesda MD.
He did this huge surgery and chemo
to the peritoneum but it returned
six months later.
The Dr there, referred us to Dr ..
in Chicago and he was a God send.
He started him on Alimta
which at that time wasn't even FDA approved,
but Trav's tumours were reduced by70%!!!

----------------------

We continued with life then 2 years
later the tumours returned in his lungs,
around his heart and neck nodes.
we have done numerous clinical trials
and conventional treatments since;
with no reduction.
He has now decided along with the Dr's
that there really is nothing else to try,
so now we are just living like today
as if there is no tomorrow.
Trav had several small exposures as a child
through his dad's work and such
but don't know exactly where he was exposed.
Nice chatting hope to hear from you soon.
Kelly

-------------------------
Date: Mon, 29 Jun 2009
Hi Kelly, can I put your story on my site
using the emails you have sent me.
I will show you what I have done before putting
it on the net for your approval.
If so have you any photos you would like to go on also,
regards from Deidre

Hey Deidre,
It would be fine and if you want
to read an article that Nevada Cancer Institute
did on Tray it is listed under publications
and it was the spring 2006 issue of their
breakthrough magazine on the NVCI site.
There is also a picture of him on there.
Kelly

-----------------------------



-------------------------
Tray knew he was in trouble when he couldn't tie his shoes.
Aside from his rapidly bulging belly,
Travis looked like a picture of perfect health;
strong, vibrant, and rugged.
A real man's man who loved football,
family and the great outdoors.
Devoted husband to Kelly,
loving father to Cody and Corey.
The 29-year-old Travis had his
whole life in front of him.
Then, out of the blue,
his stomach started swelling.
At first just a little.
"Travis, you look pregnant," Kelly teased.
But the bloating worsened.
Finally, it was so bad that he could
barely eat without feeling sick.

----------------------------
So the Bales went to their doctor and
the news was devastating.
Travis was diagnosed with malignant mesothelioma,
a disease in which malignant cells
form in the lining of
the chest or abdomen.
It is a rare form of cancer that is frequently
associated with asbestos exposure.
That night the Bales scoured the internet
and what they read was horrifying;
life expectancy for malignant
mesothelioma was 12-18 months.
"I thought I was going to die," Travis recalls.

-------------------------
As residents of South Dakota,
the Bales did not have access to
a major medical center.
So, they packed their bags,
left their boys and set out to find
the best treatment for Travis.
Their first stop was the Mayo Clinic
in Rochester, Minnesota,
one of the leading cancer
institutions in the nation.
They told him that nothing could be done
and that Travis should pretty much
get his affairs in order.
The Bales persevered.
Next stop, the National Institutes
of Health in Bethesda, Maryland.

-----------------------------
NIH immediately enrolled Travis
in a clinical trial.
Unfortunately, that didn't work.
Neither did the next trial
they put him on.
Haggard and thin,
his weight plummeted from
220 pounds down to 150.
With nowhere else to turn,
the Bales went back home.
They started looking at cemetery plots and
talked to the boys about their dad dying.
"There was a lot of praying and crying."
remembers Kelly.
"We wanted to spend as much time together
as possible because we didn't know
how much longer he had."
Finding Dr. Vogelzang
It was during this dark time
that the Bales discovered a Saviour.
Kelly kept seeing the name of a
famous doctor at the University of Chicago
Cancer Center pop up in internet chat rooms.
That doctor was Nicholas Vogelzang M.D.,
a world renowned expert on mesothelioma.
"I first became interested in
the disease back in 1980 when
I saw about eight patients who
had mesothelioma, including two sisters,
all within six months.
So I wrote a paper on it,
explains Dr. Vogelzang.
The Bales went to see Dr. Vogelzang
and they were blown away.
"He was reading, writing and listening too

--------------------------------
Searching for Hope
We thought, "wow he's smart,"remembers Kelly.
Medical expertise aside,
Dr. Vogelzang gave the Bales "hope."
"Dr. V has done me right," says Travis.
"If plan A doesn't work he always has plan B, C and D."
Plan A was a chemo regimen of
two drugs and it worked.
There was a 70% tumor reduction.
The Bales were ecstatic.
"We got the news right around
Christmas time," says Kelly

-------------------------
Two Years Later Travis went back to his normal life
and tried to forget he ever had cancer.
But two years after he finished treatment,
doctors found a nodule near his pericardium.
The Bales immediately came to see Dr. Vogelzang,
who was now director at
Nevada Cancer Institute.
Further testing indicated the disease was back.
"It was a shock.
We felt like it was a punch in the
gut," explains Kelly.
But the Bales buckled down and as
always, Dr. Vogelzang had options.
He put Travis on a Phase I trial
for advanced solid tumours.
Because it is a Phase I study,
this is the first time it is being used on humans.
To date, this drug has been used on fewer than 40 humans.
Regina Lee, Travis's research nurse,
monitors him very closely to establish
maximum tolerated dose and toxicity.
As frightening as a Phase I trial seems,
it has been my experience that
these patients find hope in them," Lee explains.
They are true heroes in this campaign
to find viable drugs to fight cancer."
There is a popular misconception that
Phase I trials, also called developmental therapeutics,
are wild "scientific experiments"
that pose a high risk for patients.

----------------------------
In fact, the opposite is true.
Studies have proven that toxicity rates
are actually lower on Phase 1 trials
when compared to the standard therapy.
This is due to good patient selection,
close patient monitoring,
experience of the
the fact that these new agents
typically target tumours
and not normal tissue.
Plus, very often Phase I drugs are taken orally as pills,
which of course is easier
for the patient.
As for Travis, he likes being on a clinical trial.
"Someone has to do it.
The drugs that helped me were once clinical trials."

----------------------------
Romance and Adventure
These days, the Bales are commuting back and forth
from South Dakota so Travis
can get his treatment from
Dr. Vogelzang in Las Vegas.
Since he was first diagnosed,
Travis has changed the way he looks
at life. He takes more risks,
like sky-diving and riding a Harley.
Kelly has noticed another, more subtle difference.
"He is more romantic, "she says with a smile.
It is hard to plan anything long-term
but they are cautiously optimistic.
"When I was first diagnosed I thought,
oh no, I'm gonna die,
but then I said "Screw this. I am going to fight
this thing," says Travis.
Kelly agrees. You have to be proactive,
you can't lose hope.

------------------------
My wonderful and courageous husband
Travis Bales died Friday Sept 18th, 2009
after an eight year fight with Mesothelioma.
Kelly Bales
Travis P. Bales

May 10 1972 - Sep 18 2009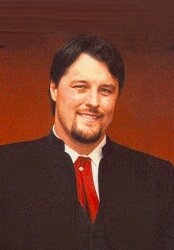 -------------------------
Travis Bales, age 37, Huron, SD,
died Friday, September 18, 2009,
at his home after a long battle with cancer.
His funeral service was held on 2:00 p.m.
Tuesday, September 22,
at First United Methodist Church
with burial at Restlawn
Memory Gardens Cemetery.
Memorials will be directed to the
Mesothelioma Applied Research Foundation.
Travis Phillip Bales was born on
May 10, 1972, in Huron, SD.

His parents are Susan (Wessel) Neiffer
and Steve Bales.
He attended schools in Huron.
Following completion of his formal
education he worked at Dakota Pork
in Huron and LSI in Alpena,
until ill health forced his retirement.
On June 16, 1995,
Travis married Kelly Marie Schroeder.
They lived in Huron and also
their cabin at Lake Thompson.
Travis's interests included camping,
fishing, guns, boating, shooting
fireworks, performing magic tricks,
spending time at the lake cabin,
and following the Minnesota Vikings,
Minnesota Wild hockey team,
and the Huron All-Star hockey team.

He is survived by his wife, Kelly;
2 sons, Cody Schroeder,
and Corey Bales and friend Abby Eide;
soon-to-be-born grandchild;
his mother, Susan Neiffer;
his dad, Steve Bales;
his father, Phil Smith; 1 brother, Jesse Bales,
2 sisters, Lindsay Bales and Becky Smith;
grandparents, Jerry and Maggie Bales,
Darlene Van Tour, Doraine Wilson, and Jackie Bjorke;
his mother- and father-in-law,
Allen and Rose Schroeder;
1 brother-in-law, Chad Schroeder;
and many aunts, uncles, cousins,
and wonderful friends.
He was preceded in death by and infant brother,
Jeremy Bales;
and grandfathers, Max Smith and Dale Wessel.

-----------------
Borrow all the beauty that's
around you every day.
Hold each lovely joy that
life has ever brought your way
Store your happy moments so
that every now and then
When your days aren't quite so bright
They'll bring sunshine back again.


------------------------
On To Jill's Story