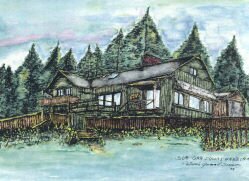 Pat and Jim's house.
-------------------
3rd March; 2000
Deidre
Thanks so much for staying in touch. I have been working for a straight month and just been really busy. I'm not complaining at all.... I'm so glad to have the work. I need to keep Busy.
How are you doing? Thanks so much for the wonderful write-up on your web page. I will try to get some pictures to you as soon as I get some free time.
It's been more than a year now and I am just now feeling I can start making some decisions again about my life. When they say you should wait a year they should really say two or three.
Financially, I go day by day. I'm sure you know the feeling. I will be 51 on March the 31st, and just can't believe I am a widow!. Seems like I should wake up from this really bad dream. Does this feeling ever go away?
I plan to stay in my home if I can keep on working and I don't break an arm or something. It's a wonderful rustic home that sits right against a game refuge. Lots of forest and no real neighbours. My nearest neighbour is at least half a mile away. We can see each others houses but have our own privacy.
I raise little tiny pet pigs called "Royal Dandies" I created the breed and I have sold only one breeding pair. So there are only two breeders in the whole wide world. I have an English Bulldog named Winston and some Bengal cats that I raise.
I have lots of pictures of Jim with all the "critters". He really enjoyed them. I better get back to work now.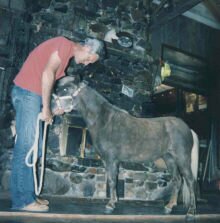 Jim and mini-mare

----------------------------


1st April; 2000

Deidre,
It's so good to hear from you!
I have no excuse for not writing sooner except that I have been keeping real busy. My kids moved out into their own apartment and I've been really getting into the corners and closets trying to get this house back into order.
Yes, I got your address. I now have my scanner working so I can send some pictures via e-mail.
I wanted you to see our house and some pictures of Jim and our family. I am feeling a little better now. When they say "time will heal" I guess they are right. It's been over a year and I am starting to get my sense of humour back a little. I actually visited with Jim's mom the other day without crying!
I am alone in this house for the very first time too. My emotions run from how beautiful it is here and how lucky I am, to a deep sadness that everywhere I look I can still see Jim and wish deeply that he was back here with me.
Enough of that! Today is my 51 birthday. My daughter is working for me so I get a whole day off! It is sun shining out and is just beautiful. I plan to get outside and get my fountains going today. I have my computer by the window so I can look out over the meadows.
How is everything with you? I have been showing your web site to everyone. You have done such a great job. I am working on a similar one and want to link to you when I am done if that is OK.
I hear my animals beckoning to me for their morning meal. I will send pictures.
Love, Pat

-------------------------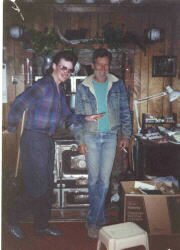 Jim and Trenton

------------------------------
Update for Pat's story
Monday, 2nd May 2011
Hi Deidre,
It's is good to hear from you again!
How are you? I sure hope things turned out good for you.
It's been so long since we talked
and so much has happened
(mostly good things!)
My daughter and grandsons are doing great. They are getting ready to move
back in here with me
as there is just too much for me to handle on my own.
Good for you for writing your book.
Write back and catch me up
on what is going on in your life.
Take care and talk to you soon, Patty
Hello again,
Jim's dad never got compensated
but about 4 years ago Jim's mother
died because of asbestos.
Her diagnosis was also mesothelioma.
Her other children (Jim's two sisters)
are being compensated.
I still get cheques from Jim's law suit

We lost three members in our family.
Jim's father (lung cancer)
Jim's mother (mesothelioma)
and Jim (mesothelioma)
I have lots of good memories of Jim here on the farm.
I still miss him a lot
but have been blessed to be able to afford to keep our home.

----------------------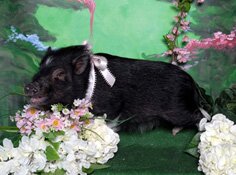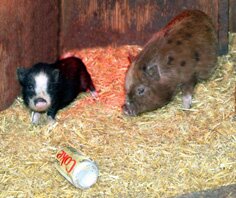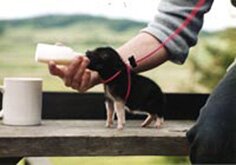 ------------------------------


These are some photos of Pat's Royal Dandies,
that she has been breeding
I just could not resist showing you them
They are so cute
If you put the words Royal Dandies into your search engine
it will bring Pat's website up

--------------------------